Agriculture
Mulch films
The use of fumigant gases, like pesticides and fungicides, is widely spread in agriculture to ensure growth of high quality vegetables, fruits or flowers. Co-extruded multilayer mulch films are designed for keeping these ozone depleting gases in the soil and for assuring better crop growth by suppressing weeds, reducing water evaporation and creating optimized conditions which stabilize or extend the growing season. Besides this, mulch films provide maximum tear resistance and optimized on-field duration.
As, however, fumigant gases may cause health risks to field workers and residents, the fumigation process needs to be optimized to minimize human and environmental damage. To keep the harmful gases in the soil and to reduce the emission rates, high-barrier films are designed: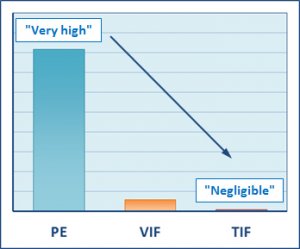 Relative permeability of fumigant gases through polyethylene (PE), virtually impermeable film (VIF) and totally impermeable film (TIF).
VIF – Virtually Impermeable Film:
5 –layer structure with PA
significant improvement of gas retention; permeation is virtually blocked to keep fumigants in the soil

TIF – Totally Impermeable Film:
7-layer structure with EVOH
significant improvement of gas retention; permeation is totally blocked to keep fumigants in the soil
Mulch films – Features:
improved gas retention due to virtually/ totally blocked permeation -> fumigation gases are kept in the soil
water conservation
tear resistance
on-field duration
Grades:
AT2235E
NF642E
NF498E
NF518E
Typical structures in/out:
LLDPE+BLACK/LLDPE+ADMER™/EVOH/LLDPE+ADMER™/LLDPE+BLACK
Silage
The storage of grain, maize or other agricultural products can be managed in a (cost) effective way close to the production or the feeding ground with the help of silage films. They assure high-quality feed for the duration of storage. A multilayer barrier film is used to preserve natural nutritional values while being impermeable to water and while having a slow permeation rate of oxygen. Furthermore, some special films avoid UV degradation. Different color combinations are designed to protect the fodder against extensive heating and to avoid unwanted fermentation.
(Agro) Chemical bottles
As chemical substances may lead plastics to swell, soften, elute or deform, (agro) chemical bottles are made of multilayer structures as they need a barrier like EVOH or PA that is resistant to chemical agents to avoid evaporation of chemical substances. Hence, they need a solid and hard-wearing tie layer which bonds the barrier and the polymer. ADMER™ serves as a high quality adhesive for (agro) chemical bottles.
(Agro) Chemical bottles - Features:
no swelling, softening or deformation of the bottle
strong resistance to agricultural chemicals, solvents, gasoline acids et al.
slow permeation rate of chemicals
superior gas barrier properties
Grades:
Typical Structures in/out:
PA/ ADMER™/ PE
EVOH/ ADMER™/ PE
EVOH/ ADMER™/ regrind/ PE
PET/ regrind/ ADMER™/ EVOH/ ADMER™/ PE