Automotive Applications
ADMER™ is the globally leading tie resin in coextruded plastic fuel tanks.
AUTOMOTIVE DEMANDS
Every vehicle contains about 30,000 parts. Industry demands for lightweight, recyclable parts have increased in line with needs for environment-friendly vehicles.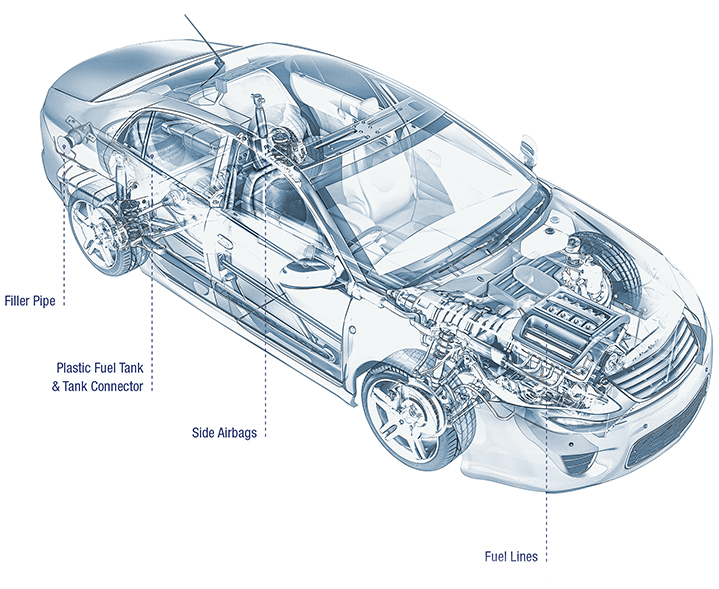 ADMER™ is used as a tie layer resin in integrated plastic fuel systems. Available in pellet form, this high performance adhesive resin shows superior long term adhesion, toughness, aging resistance and enables fuel system suppliers and OEMs to deliver fuel components with low permeation and superior durability.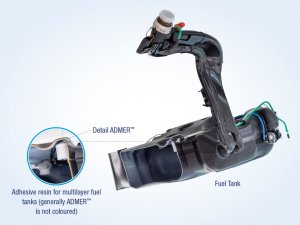 LOW-PERMEATION IN FUEL SYSTEMS
For many years, Mitsui Chemicals has been working with automotive suppliers to develop improved multilayer plastic fuel systems. The tie layer resin is used extensively by the automotive industry worldwide, and Mitsui Chemicals is continuously making improvements to accommodate alternate fuels and advances in fuel system technologies.
The industry's premier multilayer fuel system components benefit from the application of EVOH as low-permeation barrier material.
By chemical reaction to the EVOH, ADMER™ enables the cost efficient production of multilayer tanks. Main feature of these coextruded tanks is a consistent permeation resistance to evaporative emissions. This superior resistance to gasoline permeability ensures that OEMs meet environment, regulatory and industry requirements which are constantly reinforced.
STRUCTURE OF MULTILAYER PLAYTIC FUEL TANK
HDPE / ADMER™ / EVOH / ADMER™ / REGRIND / HDPE