Our quality policies
More than 40 years experience in adhesive technologies and an outstanding expertise in various industries make us a competent partner for your business. ADMER™ resins for Europe, Middle East and Africa (EMEA) are produced in Germany and the Netherlands. The production in the heart of Europe assures highest quality standards, which are reflected by the following certifications:
CERTIFICATIONS
IATF16949:2016 (QUALITY MANAGEMENT SYSTEM)
ISO 45001:2018 (OCCUPATIONAL HEALTH AND SAFETY MANAGEMENT SYSTEM)
ISO 14001:2015 (ENVIRONMENTAL MANAGEMENT SYSTEM)
ISO 9001:2015 (QUALITY MANAGEMENT SYSTEM)
DIN EN ISO 50001:2018 (ENERGY MANAGEMENT SYSTEM)
CHEMICAL MANAGEMENT
Mitsui Chemicals sets to achieve its long-term chemical management goal, which is in line with guidelines set by the World Chemical Summit for Sustainable Development (WSSD), by 2020.
To contribute to a sustainable society, Mitsui Chemicals will establish LCIA technology for assessment of environmental impact of its economic activities and establish sustainability indices to support development of environment friendly products while staying in harmony with the global environment.
To contribute to a safe society, Mitsui Chemicals will employ product stewardship concepts to assess risks of its products and share this information with its stakeholders.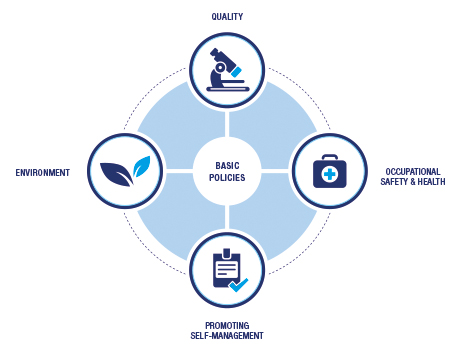 QUALITY

Supply high-quality products and services that earn the trust and satisfaction of customers so that they feel confident when using them.

OCCUPATIONAL HEALTH & SAFETY

Give priority to safety, and aim for accident and injury-free operations.

Promote the formation of an appropriate work environment and support a proactive health program for employees.

Implement safety measures and procedures for handling chemical substances to prevent injury or harm to orkers and others associated with those activities on site and in distribution, as well as customers.

PROMOTING SELF-MANAGEMENT

Strive for continuing improvements in environmental measures, occupational health and safety, and quality, beginning with compliance with applicable laws and regulations based on voluntary adherence to RC principles.

ENVIRONMENT

Contribute to environmental preservation through new products and technologies.

Assess and reduce the environmental load of products through their entire life cycle from research and development to final disposal.